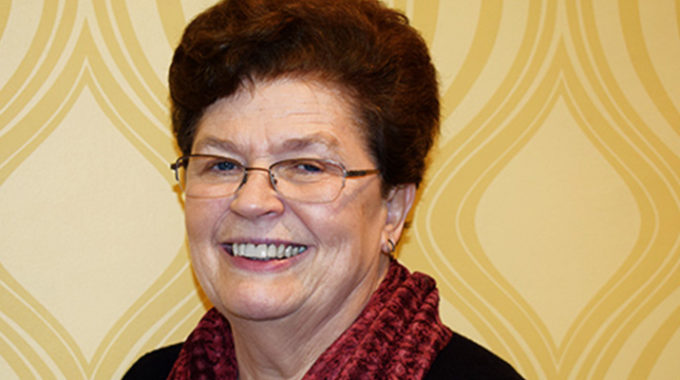 MESA Board Profile: Meet Pegeen D'Agostino – Perfil de la Directiva de MESA: Conozcan a Pegeen D'Agostino
"I owe everything I am today to those wonderful Sisters," said Peg D'Agostino, a member of the MESA Board of Directors. She was referring to the faculty at Mount Saint Agnes College, in Baltimore, MD. Her studies there were her first introduction to the Sisters of Mercy.
The Sisters so touched Peg that she was inspired to go out and "save the world," which was for her teaching for 10 years in the public school system in Baltimore. She yearned to reach young people who had been traditionally marginalized and disadvantaged. She only stopped saving the world a while after getting married to take care of her family. She missed teaching though, and when it was the right time to go back to work, she knew exactly where to go.
"I thought if I can give back in any way close to what the Sisters did for me in college, then I think I'm doing what I'm supposed to be doing," she said of her decision to return to teaching, this time at Mercy High School in Baltimore.
It was like coming home, she remembers. Like her time "at the Mount," she was once again surrounded by women who were "dedicated and strong and pushed you." She knew she was there to make a difference, "light a spark," and she took that to heart. Her teaching journey at Mercy Baltimore started in 1988 as a social studies teacher. She ultimately became chair of the department before serving as the school's Vice Principal for Academic Affairs. Peg's husband's job took her family to Long Island, NY in 1997, but that didn't stop her from being part of the Mercy education family. While there, she served as vice principal at Our Lady of Mercy Academy in Syosset, NY, for three years. The family boomeranged back to Baltimore and she went back to Mercy High School, where she ultimately served as associate principal, principal before retiring as interim president.
In the meantime, Peg stayed busy with volunteer leadership positions throughout the Mercy world. For example, she was a member of the Sponsor Council of the South Central Community, as well as a member of the Sponsorship Council for the Mid-Atlantic Community. She also served as board chair of Our Lady of Mercy Academy, Syosset after a stint as the board co-chair of the Network for Mercy Education. For many years, Peg had been part of conversations about the future of Mercy schools, and the need to unify them. Working on various councils and task forces that led to the founding of MESA ultimately led Peg to accept a position on MESA's first Board of Directors.
"It's a very humbling experience to work with some of these great men and women who had been leading schools," she said. "They are futuristic thinkers, visionaries, all of them. And it's been wonderful watching this baby [MESA] grow and take shape."
Peg also serves as university supervisor at Notre Dame of Maryland University, where she mentors future teachers, so she lives and breathes a love for education that is palpable. The teachers she's coaching teach at all sorts of schools, and it makes it clear for her why there's nothing like a Mercy school.
"I know there's something special happening in Mercy schools," she said. "There is a touch to the heart that is happening. And I believe very strongly that's what the world needs — that movement of the heart as well as the mind. So my fervor to keep Mercy schools alive and well for the future just grows more and more."
She added that the MESA Board deeply appreciates the work of teachers in Mercy schools, and they come to the work with all due respect guided by a desire to sustain that work.
Peg, born Pegeen Slover, incidentally gets her name from one of half a couple who had a popular radio talk show that her mother adored. She is a grandmother to two boys under six. She makes her home in a suburb of Baltimore, where she says even when she was in the midst of difficult conversations with parents and teachers, she always — always — felt showered with love from her Mercy family.
---

«Debo todo lo que soy hoy a aquellas maravillosas Hermanas», dijo Peg D'Agostino, miembro de la Directiva de Administradores de MESA. Ella se refería a la facultad de Mount Saint Agnes College, en Baltimore, MD. Sus estudios allí fueron su introducción inicial con las Hermanas de la Misericordia.
Las Hermanas tocaron el corazón de Peg de tal manera que la inspiró a salir y «salvar al mundo», que en el caso de ella fue de ser maestra por 10 años en el sistema de educación de Baltimore. Tuvo el anhelo de llega a los jóvenes tradicionalmente marginados y desfavorecidos. Solamente se detuvo de salvar al mundo después de casarse y cuidar de su familia. Sin embargo, extrañaba mucho ser profesora, y cuando llegó el momento apropiado regresó a su trabajo, sabía exactamente a dónde ir.
«Pensé que si tan solo pudiera devolver tanto como las Hermanas me brindaron en la Universidad, entonces, creo que estoy haciendo lo que debería estar haciendo», dijo acerca de su decisión de regresar a enseñar, en esta oportunidad en la Escuela Secundaria de la Misericordia en Baltimore.
Fue como si regresara a mi hogar, recordó. Como cuando estaba «en Mount Saint Agnes», una vez más estaba rodeada con mujeres que eran «dedicadas, fuertes y te impulsaban». Ella sabía que estaba allí para hacer una diferencia, «como una chispa», y lo hizo de todo corazón. Su trayectoria de educadora en la Misericordia de Baltimore comenzó en 1988 como maestra de estudios sociales. Por último llego a ser Presidenta del departamento antes de ejercer como Subdirectora de los Asuntos Académicos. El empleo del esposo de Peg llevó a la familia a Long Island, NY en 1997, pero eso no la detuvo de ser parte de la familia de la educación de la Misericordia. Mientras estuvo allá ejerció como subdirectora en la Academia Nuestra Señora de la Misericordia en Syosset, NY, durante tres años. La familia volvió a Baltimore y regresó nuevamente a la Escuela de Secundaria de la Misericordia, donde finalmente ejerció como Directora Adjunta, luego Directora antes de jubilarse como Presidente Interina.
Mientras tanto, Peg se mantuvo ocupada con posiciones de liderazgo voluntario alrededor del mundo de la Misericordia. Por ejemplo, fue miembro del Consejo de Auspicio de la Comunidad Sur Central, como también como miembro del Consejo de Auspicio de la Comunidad del Medio Atlántico. También ejerció como presidente de la directiva de la Academia Nuestra Señora de la Misericordia, Syosset luego de pasar un tiempo como vicepresidente de la directiva de la Red de Educación de la Misericordia. Por muchos años, Peg ha formado parte de las conversaciones acerca del futuro de las escuelas de la Misericordia, y sobre la necesidad de unirlas. Luego de trabajar en diferentes consejos y grupos de trabajos se llegó a la fundación de MESA, y por último Peg aceptó una posición en la primera Directiva de Administradores de MESA.
«Es un experiencia muy humilde trabajar con algunos de estos grandes hombres y mujeres que han sido líderes de las escuelas», comentó ella, «Son pensadores futuristas, visionarios, todos/as. Y es maravilloso ver a este bebé [MESA] crecer y tomar forma».
Peg también ejerce como supervisora en la Universidad de Notre Dame de Maryland, donde es mentora de los futuros maestros, así que ella vive y respira un amor por la educación muy palpable. Las/os maestras/os que ella capacita enseñan en diversas escuelas, y esto le demuestra que no hay nada mejor que una escuela de la Misericordia.
«Sé que algo especial sucede en las escuelas de la Misericordia», dijo. «Tu corazón es tocado y te hace creer con mucha fuerza que eso es lo que el mundo necesita —es el movimiento del corazón tanto como de la mente. Así que mi fervor por mantener las escuelas de la Misericordia vivas y en buenas condiciones en el futuro crece más y más».
Añadió que la Directiva de MESA aprecia profundamente los trabajos de maestras/os en las escuelas de la Misericordia, y que llegan al trabajo con mucho respeto guiados por el deseo de sostener ese trabajo.
Peg, cuyo nombre natal es Pegeen Slover, quien incidentemente obtuvo su nombre de una mujer que junto a su compañero tenían un programa de entrevistas en la radio (talk show) que su madre admiraba. Ella es abuela de dos niños menores de 6 años. Ella reside en un suburbio de Baltimore, donde dice que aun cuando se encontró en medio de unas conversaciones dificultosas con algunos padres y maestros, siempre se sintió colmada del amor de la familia de la Misericordia.