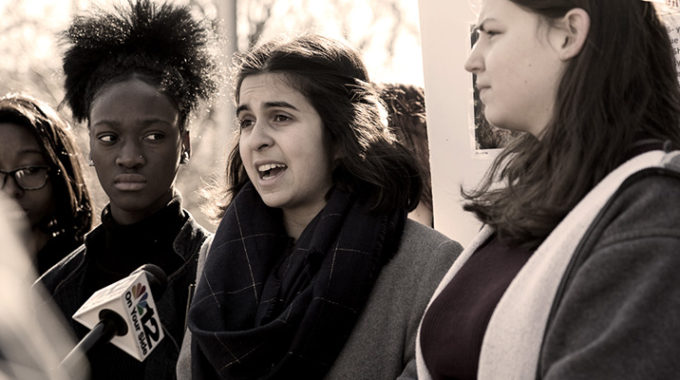 How Will You Respond to the Call? A Message from the MESA Executive Director – ¿Cómo Responderán al Llamado? Mensaje de la Directora Ejecutiva de MESA
There are two important events I am reminded of as we move through this month of March. The first is that of the one-month anniversary of the school shooting in Parkland, FL, and the other is the celebration of Women's History Month.
The voices of the students from Marjory Stoneman Douglas High School are not unlike many of the voices of women throughout history. The youth of our world are standing up for their beliefs, calling for action, challenging the status quo, our systems, and the culture that not only supports but continues to enable hate and violence.
We are once again reminded of our recent Chapter 2017 Recommitment statement, Called to New Consciousness, which calls us to "grow in our personal practice of nonviolence and peacemaking, actively collaborate with communities and organizations that foster peace and nonviolence and work to change violent systems and structures." How are you going to respond to this call in light of such violence within our world today? As a Mercy school, how are you encouraging your students to use their voice and to practice nonviolence?
As Mercy educators we are called to guide, teach, support and stretch our students by reminding them of our foundational belief in the Gospel message and by the lived expression of this message by Catherine McAuley. We give thanks for your support of the students and for remaining faithful to our Mercy Mission!
In Mercy,



Sr. Lisa Griffith, RSM
---

Hay dos eventos importantes que llegan a mi mente ahora que nos acercamos al mes de marzo. El primero es que se cumple el aniversario de un mes de la balacera en Parkland, Florida, y la otra es la celebración del Mes de la Historia de la Mujer.
Las voces de los estudiantes de la Escuela Secundaria Marjory Stoneman Douglas no son diferentes a muchas de las voces de las mujeres a través de la historia. Los jóvenes de nuestro mundo están luchando por sus creencias, llamando a la acción, desafiando el status quo, a nuestros sistemas, y a la cultura que no solo apoya sino que continúa permitiendo el odio y la violencia.
Una vez más recordamos nuestra reciente Declaración del Renovado Compromiso del Capítulo 2017: Llamadas a una Nueva Consciencia (Chapter 2017 Recommitment statement, Called to New Consciousness), que nos llama a «a crecer en nuestras prácticas personales de no violencia y promoción de paz, a colaborar activamente con las comunidades y organizaciones que fomentan la paz y la no violencia y que trabajan para cambiar los sistemas y estructuras violentas». ¿Cómo van a responder a este llamado a la luz de tal violencia dentro de nuestro mundo de hoy? Como escuela de la Misericordia, ¿de qué manera animan a sus estudiantes para que empleen sus voces y practiquen la no violencia?
Como educadores de la misericordia estamos llamados a guiar, enseñar, apoyar y esforzar a nuestros estudiantes recordándoles nuestra creencia fundamental en el mensaje del Evangelio y por la expresión viva de este mensaje de Catalina McAuley. ¡Damos gracias por su apoyo a los estudiantes y por permanecer fieles a nuestra Misión de la Misericordia!
En Misericordia,



Hna. Lisa Griffith, RSM