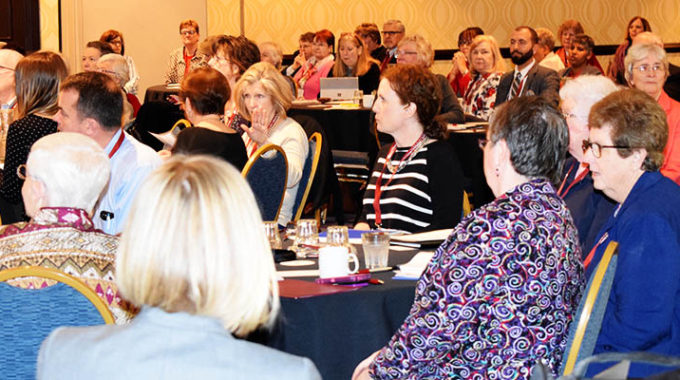 Leadership Forum Brings Mercy Educators Together in Atlanta – Foro para Líderes Reúne a los Educadores de la Misericordia en Atlanta
"You are the heart of Mercy education."
Those were the words more than 120 MESA leaders first heard as they began the 2018 Leadership Forum in Atlanta. The annual convening brought together members of the ILT, MESA Board of Directors, MESA office staff and school leaders for an enriching day-long conference.
Sr. Patricia Talone, RSM, an ethicist formerly of the Catholic Health Association, led forum-goers through a session on ethical decision-making. She noted it's so easy today to "be swimming in knowledge but lack understanding." Known by many as a quintessential educator, Sr. Pat ran through several case studies presenting difficult, complex cases in which Mercy educators would have to make decisions, balancing the dignity of the individual involved with the good of the whole school community. Examples included teachers with protected disabilities but poor job performance, out-of-wedlock childbirth, and firearms in schools.
Sr. Pat next offered a series of steps Mercy education leaders could take to tackle such sensitive cases. These steps include:
Doing your homework
Determining relevant stakeholders – "Listen to the people with the coal face," Sr. Pat said, meaning talking to the people who are on the front lines and actively engaged in the work.
Gathering information
Identifying the benefits and burdens of any particular course of action – "There will always be unintended consequences," she warned.
She also noted that our own individual values and perceptions come into play so we must always pray for guidance throughout the entire process. She also offered wisdom during a question and answer period following her presentation, on dealing with distractions such as social media and how to make time for dealing with tough cases. The MESA Board also announced the formation of a new ethics committee that will support decision-making in schools where appropriate.
In the next session, the newly approved MESA mission statement was unveiled. Approved by the Board and Institute Leadership Team late last month, it reads:
The Mercy Education System of the Americas (MESA) is rooted in the Gospel, through the Catholic faith and the Mercy charism. Inspired by Catherine McAuley, MESA nurtures highly competent and deeply compassionate leaders ready to serve a vulnerable world.
ILT President Sr. Patricia McDermott, RSM, next led forum attendees in a discussion on the importance of embedding and strengthening our Catholic identity, heritage and traditions, along with our Critical Concerns, within our schools. The day closed out with a session moderated by MESA Executive Director Sr. Lisa Griffith, RSM, in which school leaders dialogued, asked questions and exchanged information. The discussion centered around identifying consultants, funding matters, immigration policy concerns, strategic planning and more fully engaging alumni.
The following day, Mercy education leaders from Central and South America, the Caribbean, Guam and the Philippines got together for a relaxed discussion on a range of topics. For example, they reacted to the Parkland school shooting and talked about how guns from the United States travel to other countries (where there are no gun manufacturers) leading to increase in violence. They also discussed their varying structures and relationships with local ordinary, the declining number of Sisters in schools and carrying on the Mercy tradition after their retirement.
---

«Tú eres el corazón de la educación de la Misericordia».
Esas fueron las palabras que más de 120 líderes de MESA escucharon por primera vez al comenzar el Foro para Líderes de 2018 en Atlanta. La convocatoria anual junto a los miembros del ELI, la Directiva de Administradores de MESA, el personal de la oficina y líderes de las escuelas de MESA a una conferencia de enriquecimiento de un día entero.
La Hna. Patricia Talone, RSM, anteriormente una especialista en ética de la Asociación Católica para la Salud, dirigió a quienes asistieron al foro a una sesión acerca de la toma de decisiones éticas. Ella indicó que es bastante fácil, hoy en día «nadar en conocimiento pero estar faltos de entendimiento». Conocida por muchos como una educadora por excelencia, la Hna. Pat expuso varios casos de estudio que presentan casos difíciles y complejos ante los cuales los educadores de la Misericordia tendrían que tomar decisiones equilibrando la dignidad de la persona involucrada con el bienestar de la comunidad escolar. Los ejemplos incluían a maestros que están protegidos por su estado de discapacidad pese al bajo rendimiento laboral, también sobre partos fuera del matrimonio y armas de fuego en las escuelas.
A continuación, la Hna. Pat ofreció una serie de pasos que los líderes de la educación de la Misericordia podrían tomar para enfrentar los casos delicados. Estos pasos incluyen:
Hacer sus tareas
Determinar las partes interesadas relevantes – «Escuchar a la gente que realiza el trabajo» dijo la Hna. Pat, es decir hablar con la gente que está en el frente y activamente involucrada en el trabajo.
Reunir la información
Identificar los beneficios y responsabilidades de cualquier curso de acción en particular — «siempre van a haber consecuencias imprevistas», advirtió.
También señaló que nuestros valores y percepciones individuales entran en juego, por ello siempre debemos orar para ser guiados a través de todo el proceso. También ofreció su sabiduría durante un periodo de preguntas y respuestas al concluir su presentación, sobre cómo lidiar con las distracciones, tales como las redes de medios sociales y cómo dedicar un tiempo para lidiar con casos difíciles. La Directiva de MESA también anunció la formación de un nuevo comité de ética que apoyará la toma de decisiones en las escuelas cuando fuera apropiado.
En la siguiente sesión, se anunció la recién aprobada declaración de misión de MESA (MESA mission statement). Aprobada por la Directiva y el Equipo de Liderazgo del Instituto a fines del mes pasado, dice lo siguiente:
El Sistema de Educación de la Misericordia de las Américas (MESA) está arraigado en el Evangelio, a través de la fe católica y el carisma de la Misericordia. Inspirado por Catalina McAuley, MESA fomenta el desarrollo de líderes altamente competentes y profundamente compasivos dispuestos a servir a un mundo vulnerable.
La Presidente del ELI, Hna. Patricia McDermott, RSM, dirigió a los asistentes del foro a discutir la importancia de compenetrar y fortalecer nuestra identidad Católica, herencia y tradiciones, junto a nuestros Asuntos Críticos, dentro de nuestras escuelas. El día concluyó con una sección moderada por la Directora Ejecutiva de MESA, Hna. Lisa Griffith, RSM, donde los líderes escolares dialogaron, hicieron preguntas e intercambiaron información. La discusión se centró en la identificación de consultores, asuntos de financiamiento, inquietudes sobre la política de inmigración, planificación estratégica y aumentar la participación de los ex –alumnos.
Al día siguiente, los líderes de la educación de la Misericordia de América Central y del Sur, el Caribe, Guam y las Filipinas se reunieron para una discusión calmada sobre una variedad de temas. Por ejemplo, reaccionaron al tema de la balacera en la Escuela Parkland y hablaron de cómo las armas de los Estados Unidos llegan a otros países (donde no hay fabricantes de armas). También discutieron sobre sus diversas estructuras y sus relaciones con la gente común del área, el número decreciente de Hermanas en las escuelas y cómo continuar con la tradición de la Misericordia después de sus jubilaciones.