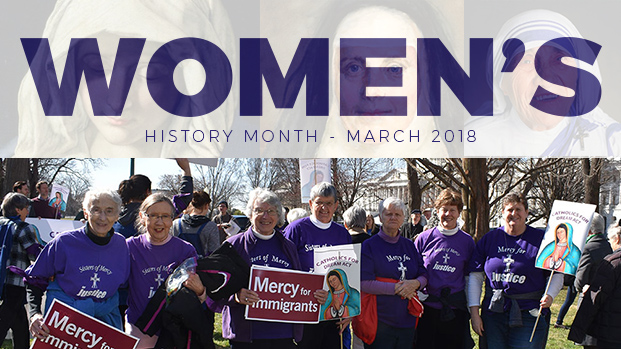 We Celebrate Women – Celebramos a Las Mujeres
By Sr. Regina Ward, RSM,
Associate Director for Mercy
Mission Integration
In the United States, we celebrate Women's History Month each March. It is a time to honor and remember the contributions of women from times past up until present day—those who saw our nation as it could be and not as it was and weren't afraid to push. We are the beneficiaries of their courage, in more ways than you can imagine.
This commemoration has its roots in education. It all began in 1978 when a school in California held a weeklong celebration of women's contributions throughout history. The idea spread like wildfire throughout the country, and in 1980, President Jimmy Carter proclaimed the week of March 8th National Women's History Week. Six years later, Congress dedicated the entire month to the observance.
We have much to be grateful for as women of faith. We give thanks for the blessings of Catherine McAuley, and look to her as an example of how powerful a woman attuned to the Spirit and voice of God can be. But we also remember and honor Mary of Nazareth, Mary Magdalene, Hildegard of Bingen, Catherine of Siena, Teresa of Avila, Dorothy Day, and countless women who have shepherded us in our journeys of faith, including our own mothers.
This is also a special moment to reflect upon the Critical Concerns of the Sisters of Mercy. Through education, our goal is to empower women to take their rightful place in Church and society. We educate our students to be aware of the suppression and abuse of women and to work for justice and equality for all women. The special concern for women highlighted in our Critical Concerns enables our schools to stand against issues of violence toward women and for the empowerment of our students to grow into merciful and intelligent leaders.
This Women's History Month, I'd like to remind us that we shouldn't become complacent about this observance. Yes, we must celebrate the achievements of women with intensity, but we must also rededicate ourselves to the challenges that confront our students and their future. It is evident as we observe the young students from Marjory Stoneman Douglas High School that young people see the injustices that surround them and want to act. I am confident that our Mercy students hold the same desires, many of which focus on women's issues.
I celebrate this month and the opportunities it affords each of us to focus on women and their many gifts and challenges. I pray in gratitude for the women who have helped shaped my life. I hope that all the students who sit in our Mercy classrooms have the role models they need to stand in the future as "Women or Men of Mercy" and work toward justice for all, especially women.
---
Por la Hna. Regina Ward, RSM
Director Asociado Para La Integración De Misión De Misericordia
En los Estados Unidos, celebramos el Mes de la Historia de la Mujer en el mes de marzo. Es el momento de honrar y recordar las contribuciones de las mujeres desde el pasado hasta el presente, aquellas que vieron nuestra nación como podría ser y no como era y no tuvieron temor de enfrentarlo. Somos las beneficiarias de su audacia, en más maneras de las que pueden imaginar.
Esta conmemoración tiene sus raíces en la educación. Todo empezó en 1978 cuando una escuela en California realizó una celebración de una semana de duración sobre las contribuciones de las mujeres en toda la historia. La idea se difundió como un «reguero de pólvora» en todo el país, y en 1980, el Presidente Jimmy Carter proclamó la semana del 8 de marzo la Semana Nacional de la Historia de la Mujer. Después de seis años, el Congreso dedicó todo el mes a la celebración.
Tenemos mucho que agradecer como mujeres creyentes. Damos gracias por las bendiciones de Catalina McAuley, a quien vemos como ejemplo de cuán poderosa puede ser una mujer en sintonía con el Espíritu y la voz de Dios. También recordamos y honramos a María de Nazaret, María Magdalena, Hildegarda de Bingen, Catalina de Siena, Teresa de Ávila, Dorothy Day, y las incontables mujeres que nos han guiado en nuestro caminar de fe, incluidas nuestras madres.
También es un momento especial para reflexionar sobre los Asuntos Críticos de las Hermanas de la Misericordia. A través de la educación, nuestro objetivo es conferir poder a las mujeres para que ocupen el lugar que les corresponde en la Iglesia y la sociedad. Educamos a nuestros estudiantes para que sean conscientes de la represión y el abuso de las mujeres y para que trabajen por la justicia e igualdad para todas las mujeres. La inquietud especial por las mujeres que se resalta en nuestros Asuntos Críticos faculta a nuestras escuelas a hacerle frente a los problemas de violencia hacia las mujeres y empodera a nuestros estudiantes para que sean líderes misericordiosos e inteligentes.
En este Mes de la Historia de la Mujer, quisiera recordarnos que no debemos ser complacientes en esta celebración. Sí, debemos celebrar los logros de las mujeres con intensidad, pero también debemos retomar los desafíos que enfrentan nuestros estudiantes y su futuro. Es obvio al observar a los estudiantes de la Escuela Secundaria Marjory Stoneman Douglas que los jóvenes ven las injusticias que los rodea y quieren actuar. Estoy convencida de que nuestros estudiantes de la Misericordia tienen los mismos deseos, muchos de los cuales se centran en los problemas de las mujeres.
Celebro este mes y las oportunidades que nos ofrece a todas para centrarnos en las mujeres y sus muchos dones y desafíos. Rezo con gratitud por las mujeres que me han ayudado a formar mi vida. Espero que todos los estudiantes de nuestras aulas de la Misericordia tengan los modelos que requieren para enfrentar el futuro como «Mujeres y Hombres en Misericordia» y trabajen por la justicia para todos, en especial para las mujeres.