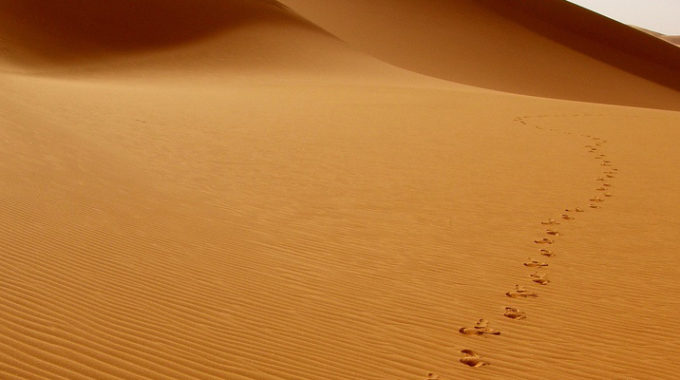 Beloved and Bewildered: A Message from MESA Board Chairperson – Amado y Desconcertado: Mensaje de la Presidenta de la Directiva de MESA
Dear MESA Partners,
It is hard to believe we are in the midst of the annual Lenten Season of our faith journey. As we engage in our own prayers and practices during this time of year, our focus is on a sense of renewal in strengthening our approach to life and ministry.
With you, I offer a personal reflection based on a retreat from the Irish Franciscan, Father Loman MacAodha, as expressed through the writings of Patricia Livingston. In Mark's Gospel, we read about Jesus hearing the message from His Father, "You are my Beloved Son in whom I am well pleased." The very next words in Mark are: "At once the Spirit drove Him out into the desert, and I have remained in the desert for forty days tempted by Satan. "
The challenge for us is to ponder these two realities and see how we connect them with our own daily life experiences. A simple request is to consider how and why we find ourselves in similar states – both beloved and bewildered! Like Jesus, how do we respond to daily encounters with our students, staff, community, national concerns and global affairs on a personal level? Do we find ourselves beloved and, in turn, reciprocate the response? Or, do we find ourselves bewildered and, in turn, seek clarification, resources, reasons for actions, etc.?
Whatever path we pursue, we are reminded of Jesus' responses in preparation for His redemptive sacrificial act. We find hope in His example and can unite in that same spirit to provide a sustaining presence of communicating the calmness of being beloved, even in the midst of experiences that cause one to feel bewildered.
May God bless us with a deeper awareness of the sacred meaning and remembrance of this Holy Season.
Blessings,

Sister Richard Mary Burke, RSM – MESA Board Chair
---
Estimadas/os Socias y Socios de MESA,
Es difícil creer que ya estemos a la mitad de la Temporada Anual de Cuaresma de nuestro camino de fe. Mientras nos dedicamos a nuestras oraciones y prácticas durante esta temporada del año, nuestro enfoque es de llegar a un sentido de renovación en el fortalecimiento de nuestro enfoque de la vida y el ministerio.
Con ustedes, ofrezco una reflexión personal basada en un retiro del Franciscano Irlandés, Padre Loman MacAodha, como ha sido expresado a través de los escritos de Patricia Livingston. En el Evangelio de Marcos, leemos acerca de Jesús escuchando el mensaje de su Padre, «Tú eres mi hijo amado en quien tengo complacencia». Y las siguientes palabras en Marcos dice: «El espíritu lo impulsó a ir al desierto, allí se quedó por cuarenta días y fue tentado por Satanás».
La prueba para nosotros es preguntarnos ante estas dos realidades y ver como las conectamos con nuestras propias experiencias de la vida cotidiana. Una petición simple es considerar cómo y por qué nos vemos en estados similares —¡amados y desconcertados! Al igual que Jesús, ¿de qué manera respondemos a los encuentros diarios con nuestros estudiantes, personal, comunidad, con los asuntos nacionales y globales a nivel personal? ¿Nos sentimos amados y ante ello respondemos con reciprocidad? o ¿nos sentimos desconcertados y por lo tanto, buscamos aclaración, recursos, razones para actuar, etc.?
Cual fuera el camino que sigamos, recordemos las respuestas de Jesús en preparación para su acto de sacrificio redentor. Encontramos esperanza en su ejemplo y podemos unirnos a ese mismo espíritu para proveer una presencia sostenedora para comunicar la calma de ser amados, aun al estar en medio de las experiencias que nos hace sentir desconcertados.
Que Dios nos bendiga con una mayor conciencia del significado sagrado y el recuerdo de esta Temporada Santa.
Bendiciones,


Hermana Richard Mary Burke, RSM –Presidenta de la Directiva de MESA