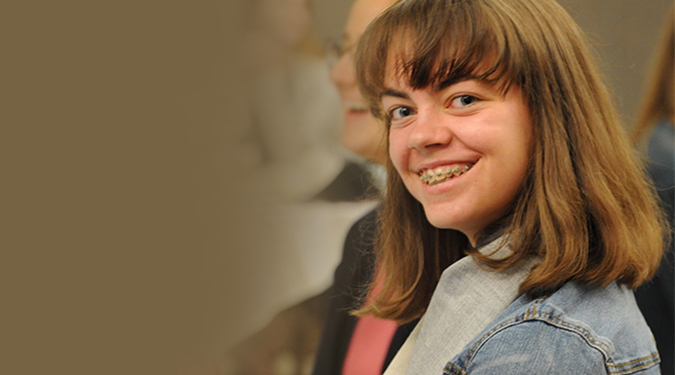 A Reflection by Anastasia Warner, Mercy High School – Una reflexión por Anastasia Warner, Escuela Secundaria de la Misericordia
3.

A Reflection by Anastasia Warner, Mercy High School – Una reflexión por Anastasia Warner, Escuela Secundaria de la Misericordia
This October, I was part of a group of students at my school in Farmington, MI, who had the opportunity to meet three representatives from the Mercy Education System of the Americas, Sr. Lisa Griffith, Sr. Regina Ward, and Ms. Kim Baxter. Although I had always felt that my own Mercy High School had a special tradition and history to accompany a unique, vibrant atmosphere of sisterhood, service, and academic achievement, I never realized that these traits, which we say make Mercy, Mercy, are shared among all the institutions of MESA. Learning more about MESA helped me understand how all Mercy schools are connected by the critical concerns of the Sisters of Mercy, the inspiration of Catherine McAuley, the Mercy Values and even the general attitude of excellence in education. I found myself feeling not only a sense of pride in being part of the international Mercy community, but an increased closeness to my own school, its mission, and its students. I think that all of us were both surprised and excited to hear that the atmosphere of passion, support, and involvement that we build (and brag about) here in Michigan is found nationwide, even internationally, in other Mercy locations. MESA is what adds that new dimension to the Mercy experience. Undoubtedly, our 700-sister community grew a lot bigger that day.
Anastasia Warner
Mercy High School
Farmington Hills, Michigan
Class of 2018
---
Una reflexión por Anastasia Warner, Escuela Secundaria de la Misericordia
Este mes de octubre, formé parte de un grupo de estudiantes en mi escuela en Farmington, MI, que tuvo la oportunidad de conocer a tres representantes del Sistema de Educación de la Misericordia de las Américas, la Hna. Lisa Griffith, Hna. Regina Ward, y la Srta. Kim Baxter. Aunque siempre sentí que mi propia Escuela Secundaria de la Misericordia tenía una tradición e historia especial para acompañar un entorno único y vibrante de hermandad, servicio y rendimiento académico, nunca había imaginado que estas características, que decimos hacen la Misericordia, Misericordia, se comparten entre todas las instituciones de MESA. Conocer más sobre MESA me ayudó a entender cómo todas las escuelas de la Misericordia están conectadas por los asuntos críticos de las Hermanas de la Misericordia, la inspiración de Catalina McAuley, los valores de la Misericordia e incluso la actitud general de excelencia en la educación. Me encontré sintiendo no sólo una sensación de orgullo por ser parte de la comunidad internacional de la Misericordia, sino también un mayor acercamiento a mi propia escuela, su misión y sus estudiantes. Creo que todas nosotras estamos sorprendidas y contentas al escuchar que el ambiente de pasión, apoyo y participación que construimos (y presumimos) aquí en Michigan también se encuentra en toda la nación, incluso a nivel internacional, en otros lugares de la Misericordia. MESA es lo que agrega esa nueva dimensión a la experiencia de la Misericordia. Indiscutiblemente, nuestra comunidad de 700 hermanas creció mucho más ese día.
Anastasia Warner
Escuela de Secundaria de la Misericordia
Farmington Hills, Michigan
Clase de 2018