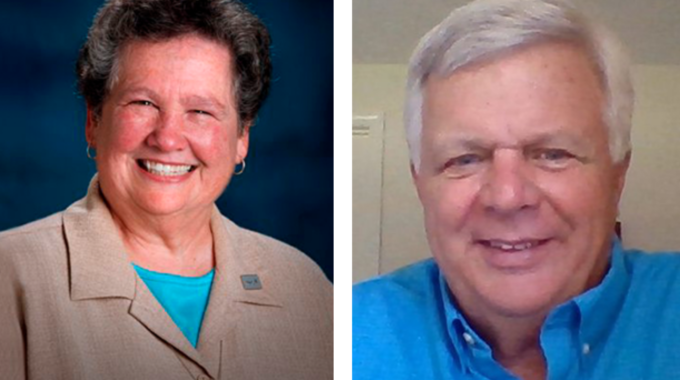 MESA Announces Leadership Change for Board of Directors
During the Mercy Education System of the Americas (MESA) Leadership Forum on February 27, Sister Richard Mary Burke, RSM, chairperson of the MESA Board of Directors, announced that she would be completing her term as chairperson and MESA board member on June 30. The MESA Board of Directors is pleased to announce that board member Terence M. Quinn will step into the role of chairperson, effective July 1, 2020.
In her closing address at the forum, Richard Mary stated: "… I want to take this blessed time to express my personal gratitude and heartfelt pride in the privilege to serve with you and on your behalf during these first three years of MESA. Your dedication is inspiring, your innovation and creativity makes my heart leap with joy."
Richard Mary is the past president of Mount St. Mary Academy in Little Rock, Arkansas. She currently serves as the coworker relationships coordinator for Mercy Springfield Health Communities and is a member of the South Central Sponsorship Council. Prior to her service on the MESA Board of Directors, Richard Mary was a board member for Network for Mercy Education.
Terry Quinn served as principal of Our Lady of Mercy School for Young Women in Rochester, New York, for 10 years. He is a part-time consultant for PLC Associates, Inc. and serves as a member of Association Supervision and Curriculum Development. In recent years he was a member of the Education Committee for Nativity Preparatory Academy in Rochester as well as board member and regional director of the New York Middle School Association.
"It is an honor and privilege to be selected to serve as board chair of MESA," said Terry. "Sister Richard Mary has done an outstanding job in our first three years of existence. I look forward to working with the other board members and MESA staff in supporting all of our Mercy educational ministries."
On behalf of all of MESA, we thank Sister Richard Mary for her service and dedication to Mercy education. We also thank Terry for his willingness to continue his service as board chair and look forward to his leadership.
Mercy Education System of the Americas is an international organization serving over 50 schools in six countries and one territory. MESA is a ministry of the Institute of the Sisters of Mercy of the Americas. Learn more at mercyedu.org.
 For more information please contact mesa@sistersofmercy.org.