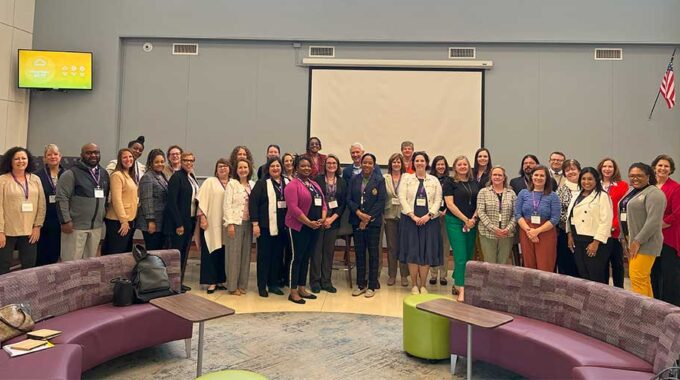 Mercy Education Sponsors Workshop on Diversity, Equity, Inclusion and Belonging
Mercy Education's Diversity, Equity, Inclusion and Belonging (DEIB) workshop was held in Chicago, Illinois, April 24-25, where host school Mother McAuley Liberal Arts High School welcomed 43 participants from 19 Mercy Education member schools. Participants toured the school and enjoyed tastes of Chicago while engaging in important work around DEIB.
Michele Lewis Watts, Ph.D., and Sommer Woods, Woods and Watts Effect, facilitated conversations around achieving greater fulfillment of mission and creating sustainable and equitable practices within school communities. Participants deepened their understanding of core DEI competencies and learned tactical skills for DEI deployment and how to recognize and reduce bias and microaggressions. They also explored ways to shift culture and execute related change in their organizations.
Mercy Education leaders led an open discussion on Building Safe Spaces: Resources on Human Sexuality for Mercy Catholic School, a document which aims to support students identifying as LGBTQIA+ who may be experiencing marginalization and to support school leaders when they are engaged in decisions that involve human sexuality.
Kim Amrine, Founder and CEO, Kim Amrine Consulting, LLC, offered training on everything a school leader would need to know about DEI Strategic Planning including how to conduct an assessment, draft a plan, implement it, and achieve consistent and measurable outcomes. She also provided specific suggestions on how to increase the diversity of staff and board.
Anita Roberson, Director of Diversity, Equity, Inclusion and Justice at Gwynedd Mercy Academy High School, shared some of the many ways that GMA is attracting BIPOC students through "Camp Inspire" and other key initiatives.
View photos from the workshop here. Participants have received an email containing slides, a survey and other resources from the workshop.