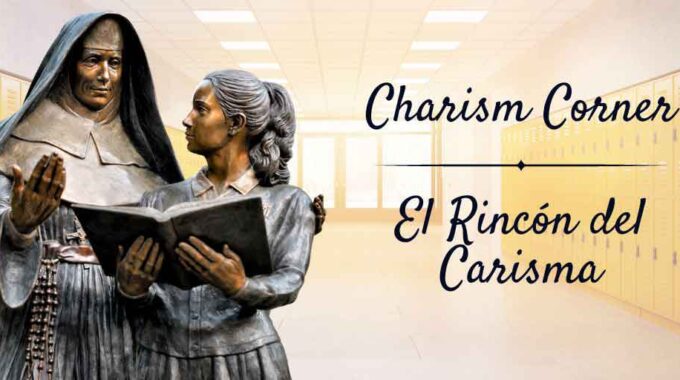 An Introduction to Charism
"Charism Corner" is a new series that will appear monthly in Flash, written by Sister Regina Ward, RSM, Associate Director for Mission for Mercy Education. The series focuses on our Mercy charism and how we can express it within our school communities.
The Greek word charisma means "free gift" or "favor." It is St. Paul who introduced the term into religious language. Charism is a gift bestowed by the Holy Spirit for building up the body of Christ. A charism is a gift which has its source in the grace or favor of God and which is destined for "the common good" (1 Cor 12:7). This being so, charisms are many and are related to various services and functions.
Luke refers to Mary's favor at the Annunciation. The angel said to her, "Do not be afraid, Mary; you have found favor with God (Luke 1:14). Mary's acceptance of God's invitation involved charism as Mary was receiving God's gift, Jesus, for the common good of humankind.
Typically, we think of the founder/foundress of a religious community receiving a gift of the Holy Spirit. Each religious community names a gift that is received for the good of others. Catherine McAuley grew up being exposed to her father's Catholic faith which compelled him to care for his neighbors who were in need and teach his faith to children in their yard. Catherine grew in her faith reading scripture, following her father's example and developing a relationship with Jesus. So, Catherine responded to a passion within her to be of service to those around her. This passion, that Catherine knew was from God, is Mercy.
Reading about Catherine McAuley highlights how she came to understand what God was asking of her, and how she defined that call as Mercy. Catherine discerned all events in her life within the context of Mercy and made all decisions for the sake of the mission.
Charism is a dynamic gift. Catherine shared the mission, and therefore the charism, with those who joined her in community. Each person embraced the mission and was gifted with the charism. Today, Sisters of Mercy, associates, companions, Mercy volunteers and partners in ministry all have the opportunity to personally and collectively embrace the mission of Mercy handed down in the tradition of Catherine McAuley. In that embrace we are gifted with the charism of Mercy for the good of others. Mercy is not reserved for Sisters of Mercy and the greater Mercy community; it is a universal gift of the Spirit. Pope Francis also names Mercy as a charism he has received.
This article was originally published in Flash, the weekly e-newsletter of Mercy Education. Subscribe here.