CATHOLIC IDENTITY RESOURCES
Mercy schools are rooted in the Gospel through our Catholic faith.
Booklet: Why Choose a Catholic Education?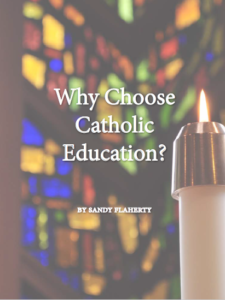 Sandy Flaherty, Director of Catholic Identity and Religious Studies teacher at Mercy High School in Burlingame, California, has published this informative and guiding resource for families considering a Catholic education. It is designed to educate parents on how Catholic education is distinct from other learning environments. Read it here.
Global Sisters Report - GSR in the Classroom
View GSR in the Classroom here. Topics include:
Advent
Environment
Human Trafficking
Lent
Migration
Race Relations
Vocations
This classroom guide is based on an article written by Sister of Mercy Jenny Wilson, theology teacher at Mount Mercy Academy (Buffalo, New York).
From the GSR in the Classroom website: GSR in the Classroom helps students learn about the varied missions and ministries of Catholic women religious — and religious life — around the world. Each lesson explores Global Sisters Report articles and columns more deeply by posing questions that first open readers' minds to new learning, then help them understand what they've read. Other features deepen the message with pertinent passages from Scripture and Catholic social teaching. … Each lesson sends learners forth in prayer.
Teacher guides provide important background about the issues that each lesson explores, as well as engaging activities to focus the group and prayers that classes can lift up together.
… Most activities are easily adapted for group or individual use. Likewise, while our current target audience is high school learners, most elements are flexible enough for use by middle-school students as well.
Lenten Resources
"Lessons in Lent" from Global Sisters Report in the Classroom. This series of six lesson plans and teacher guides help us draw nearer to Christ on his path to the Passion from the perspective of Catholic sisters. The series explores fresh meaning in familiar Lenten gospels and brings new depth to students' Lenten disciplines and discoveries. Each installment includes a reflection from a Catholic sister, scripture connection, prayer, suggested action and more.
Mercy Meatless Mondays. Abstain from meat each Monday during Lent in solidarity with the Sisters of Mercy. This resource includes inspirational quotes, informational resources regarding health and the environment and recipes.

Sisters of Mercy Stations of the Cross.

This year starting on Ash Wednesday, February 26, the Sisters of Mercy are inviting the Mercy community into a series of reflections based on the Stations of the Cross. Writers explore themes in the stations to bring contemporary relevance to these ancient devotions. The reflections will be posted on the 

Connect with Mercy blog

on Tuesdays.