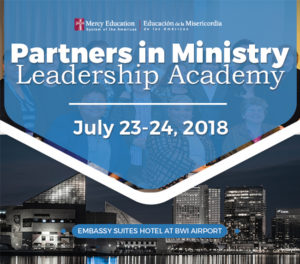 The MESA office is very pleased to offer a leadership development opportunity this summer at our Partners in Ministry Leadership Academy on July 23 and 24, 2018. The Leadership Academy has been a valuable program supported by the Network for Mercy Education for many years, and MESA is proud to continue this fine tradition. Participants will share in the wisdom of our presenters who come from varied experiences and positions throughout the system. We are also delighted to connect with the Mercy International Center in Dublin as part of our program.
MESA will cover the cost for the program, meals, and one night's hotel accommodation (Monday, July 23, 2018). Your ministry will be responsible to cover the cost for transportation.
Please read this information flyer for additional information about the program. To stay true to our mission to reverence the Earth, all materials for the Leadership Academy will be electronic.
Please make sure that participants register BEFORE Friday, June 15, 2018. If someone needs a room on Sunday, July 22 or Tuesday, July 24, Kimberly Baxter, MESA Associate Director for Programs and Services will make that reservation; however, MESA will not cover that cost. The program will begin with lunch on Monday, July 23 at 12:00 noon ET and will end at 12:30 pm ET on Tuesday, July 24. Members of the New Leader Cohort are asked to stay for a meeting from 1:00-3:00 pm ET to share their personal experiences as new leaders this year.