CATHERINE MCAULEY AND MERCY CHARISM RESOURCES
Catherine McAuley is the founder of the Sisters of Mercy. The resources on this page share ways to engage students on her life, ministry and spirituality.
Curriculum Guide: Works of Mercy and Catherine McAuley, Grades K-6
Using the framework of the 15 Corporal and Spiritual Works of Mercy, this curriculum guide delves into the life and legacy of Catherine McAuley and provides opportunities and resources to inspire students about ways they can make Mercy real in the world today. A robust reference list provides information about service learning, suggested reading for students and teachers about the life of Catherine McAuley and much more.
Curriculum Guide as PDF  |  Curriculum Guide in Google Docs – To create a copy of the curriculum that you can save and edit, please click "File" then "Make a Copy." Enter a unique name and then click "OK." The copy you create will be visible only to you.
The curriculum writing team takes you on a tour of the curriculum in this video.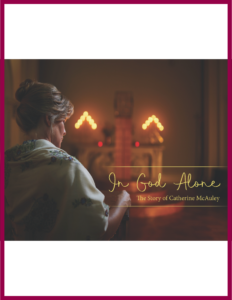 Film: In God Alone – The Story of Catherine McAuley
The film In God Alone – The Story of Catherine McAuley is available online. There are two versions of this 23-minute film, one in English and one with Spanish subtitles; you can view them here.
If you are sharing this film in your classroom, MIA invites you to use the following worksheets (available in English and Spanish) with your students: