RESOURCES FROM THE SISTERS OF MERCY
Make Mercy Real – Find a Way Every Day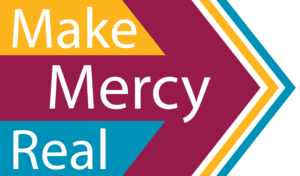 The Sisters of Mercy are challenging you to share how you Make Mercy Real. In the coming year, find a way every day to Make Mercy Real and share it on social media. We look forward to sharing the inspiring and creative ways our schools embrace the call to Make Mercy Real.
Here are a few ways in which you can take part:
Share how your school community is embracing the Mercy Critical Concerns and Works of Mercy on social media using the hashtag #MakeMercyReal.
Incorporate the Make Mercy Real movement into fundraisers, service activities, spiritual events, special projects and more.
A folder of Make Mercy Real logos in English and Spanish – including a Make Mercy Real moving "gif"! – is available here. You are welcome to use these on signage, websites, social media, etc. For questions, please contact us.
Social Justice
Spirituality