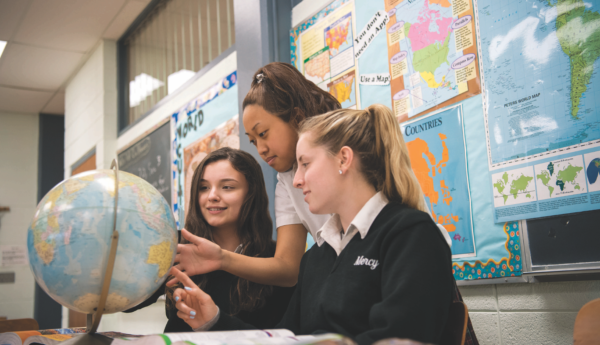 Educational Resources.
The Mercy Education System of the Americas supports the education of more than 20,000 children in 58 Mercy elementary and high schools. Through the spirit of Catherine McAuley and her legacy of education, we strive for each child to be instilled with the Mercy tradition. Mercy goes beyond educational excellence, offering a holistic approach to educating future generations. Our students are instilled with global connectedness and vision, spiritual growth and development, and compassion and service among other qualities. 
It is our hope that through these educational resources our faculty, staff, and students are able to continue learning, challenging, and growing in the Mercy tradition. If you would like to share a resource with the Mercy Education System community please submit the material via our contact page. 
Season of Creation.
Dear Mercy Advocates for Earth,
 
Two years ago, Pope Francis designated each September 1st as the World Day of Prayer for the Care of Creation. Catholics are now joining other Christians around the world in celebrating a whole Season of Creation that extends through Oct. 4th, the Feast of St. Francis.
 
To walk through the 34 days in prayer, Mercy International Association offers a calendar of daily reflections and actions. A 3-minute meditation on Laudato Si prepared by Sister Anna Siufi of Argentina is available here in English and here in Spanish.
 
Consider also participating in the Season of Creation in one or more of these ways:
Organize a prayer service with the help of this planning guide.
Take the St. Francis/Laudato Si Pledge through the Catholic Climate Covenant to commit to praying, living and advocatingLaudato Si
Join a Season of Creation prayer service in your local community. Or if you're close to Washington, D.C., join us on September 12 for a prayer service and advocacy day on Capitol Hill. Contact Marianne Comfort at mcomfort@sistersofmercy.org for more information.
 
The Institute Justice Team will be sending out additional resources and calls to action throughout the season.
 
Please let us know how you are celebrating the Season of Creation, by sending photos and information to Marianne Comfort at mcomfort@sistersofmercy.org
 
Thank you for your ongoing commitment to caring for creation,
 
Sisters of Mercy's Institute Justice Team
Social Justice.
Poverty A Root Cause of Migration: "Migration is a worldwide phenomenon and it is about poverty. Politicians and activists in the United States engage in carefully-worded arguments about what comprehensive immigration reform means, and how to deal with the situation. But while the rhetoric continues, desperately poor people—more and more of them women—are leaving their homes, countries, children and all that is familiar in order to find a way to support themselves and their families."
What Are The Mercy Critical Concerns?: "The Sisters of Mercy were founded out of a deep concern for persons who are poor. Today, that commitment is focused in five "critical concerns" that we address through prayer; attention to personal, communal and institutional choices; education; advocacy with legislators and other government leaders; and corporate engagement."
The United Nations: The Lazy Person's Guide To Saving The World: "End extreme poverty. Fight inequality and injustice. Fix climate change. Whoa. The Global Goals are important, world-changing objectives that will require cooperation among governments, international organizations and world leaders. It seems impossible that the average person can make an impact. Should you just give up?"
The Impact of Global Climate Change on Mercy's Critical Concerns: "Global climate change is impacting people and the environment in many ways. Here are some examples that directly connect to the Sisters of Mercy's Critical Concerns."
Spirituality.
Prayers from Catherine McAuley and the Sisters of Mercy:
Mercy Day Blessing, The Mercy Suscipe, Prayer for the Beatification of Catherine McAuley, Prayer Before Meditation, and Thirty Days Prayer.
Prayers for Social Justice:
Women and Nonviolence, For Children Immigrating Alone, School of the Americas, International Women's Day (March 8th), and Prayer for Peace.
Spirituality Poems and Reflections:
The Invitation, A worksheet summary on Laudato Si, Fall in Love by Fr. Pedro Arrupe, SJ
Interfaith Reflections:
Tibetan Prayer Flag Reflection and Activity, 
Catherine McAuley.
Catherine recognized the many needs of people who were economically poor in early nineteenth century Ireland and determined that she and women like her could make a difference. Spending her inheritance, she opened the first House of Mercy on Lower Baggot Street in Dublin, Ireland on September 24, 1827, a place to shelter and educate women and girls. Catherine's original intention was to assemble a lay corps of Catholic social workers. Impressed by her good works and the importance of continuity in the ministry, the Archbishop of Dublin advised her to establish a religious congregation. Three years later on December 12, 1831, Catherine and two companions became the first Sisters of Mercy.
Mercy International Association: Introducing Catherine McAuley