INSTITUTE LEADERSHIP TEAM (ILT)
The Institute Leadership Team of the Sisters of Mercy of the Americas serves as the Members of the Corporation for Mercy Education System Of The Americas, Inc. The ILT appoints the Board of Directors of MESA. Mercy Education System of the Americas gives thanks for the ILT (2011-2017) whose leadership and support led to the formation of the system.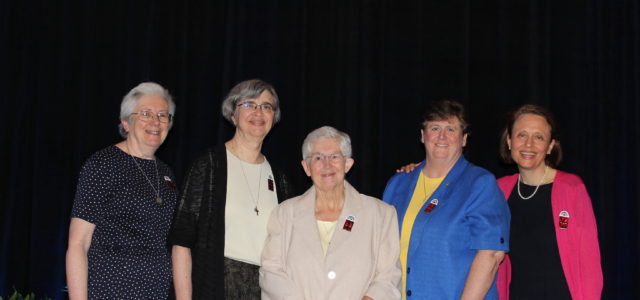 PATRICIA MCDERMOTT, RSM
PRESIDENT
Patricia Flynn, RSM
VICE PRESIDENT
Judith Frikker, RSM
COUNCILOR
Áine O'Connor, RSM
COUNCILOR
Anne Marie Miller, RSM
COUNCILOR
MEET OUR BOARD OF DIRECTORS
The Board of Directors membership, authority and responsibilities is defined and delegated by the Institute Leadership Team. The Board of Directors defines the corporation's policies, goals, and objectives in accord with the mission and purpose of the Corporation. The Board adopts a plan for the development and implementation of the Corporation's mission and purpose. The Board has oversight, as appropriate, for all MESA member Institutions.
Photo featured above: (Front row, from left) Sister Michele Aronica; Dr. Eileen Quinn Knight; Sisters Richard Mary Burke, Michelle Gorman, and Pat Smith. (Back row, from left) Sister Deborah Troillett, Thomas Ruthemeyer, Peg D'Agostino, William Valade, Dennis Ferra, David Levy and Sister Lisa Griffith.
MICHELE ARONICA, RSM
PROFESSOR OF SOCIOLOGY
Saint Joseph's College
Standish, ME
RICHARD MARY BURKE, RSM, BOARD CHAIR
CO-WORKER RELATIONS COORDINATOR
Mercy Springfield Health Communities
Springfield, MO
PEG D'AGOSTINO
UNIVERSITY SUPERVISOR
Notre Dame of Maryland University
Towson, MD
MICHELLE GORMAN, RSM
SPIRITUAL DIRECTOR/CHAPLAIN
California Senate
Sacramento, CA
LISA GRIFFITH, RSM
EXECUTIVE DIRECTOR, EX-OFFICIO
Mercy Education System of the Americas
Silver Spring, MD
CAROLYN JAWORKSI
RETIRED PRINCIPAL
Mercy High School
Omaha, NE
TOM JOHNSON
ATTORNEY
Tom Johnson and Associates
Fair Oaks, CA
DAVID LEVY
UNIVERSITY PROFESSOR, MBA PROGRAM DIRECTOR
Bellevue University
Omaha, NE
MARIA DEL MAR PEYDRO
RETIRED GENERAL DIRECTOR
Colegio Santa Ethnea
Buenos Aires, Argentina
ANNE MARIE MILLER, RSM, ILT LIAISON
INSTITUTE LEADERSHIP TEAM, COUNCILOR
Sisters of Mercy of the Americas
Silver Spring, MD
THOMAS RUTHEMEYER
CLINICAL PROFESSOR
Xavier University
Cincinnati, OH
PAT SMITH, RSM
MID-ATLANTIC COMMUNITY LEADERSHIP TEAM
Sisters of Mercy of the Americas
Merion Station, PA
DEBORAH TROILLETT, RSM
EXECUTIVE DIRECTOR
Arkansas House of Prayer
Little Rock, AR
BILL VALADE
RETIRED ENGINEER
Ford Motor Company
Farmington Hills, MI
SUE WEBER, BOARD FACILITATOR
Indianapolis, IN